The Sunday in Hell screenings + signings tour
The closing stage of the Sunday in Hell spring tour ended somewhere on a Great Western train heading west from Reading. It was an exhilarating and at times zombifyingly tiring few days doing something I hadn't done before, a series of book signings and Q&A sessions back to back, four in the space of five days across the south of the UK: London, Poole, Bristol, and London again. In distance and arduousness, it was more the Four Days of Dunkirk than the Giro. But it was fun.
When I got close to the end of writing Sunday in Hell, it seemed the obvious thing to do was to combine screenings of the film with Question and Answer sessions about the book and the film, and a chance for people to buy the book. I don't know if it is something that's been done before with other books about films, but it seemed like a happy marriage: a film that people love and don't get to see very often, and a book that I want to sell copies of.
From this week, it seems clear that people do want to watch the film still, which I shouldn't be surprised at, given that I've suggested it's the greatest cycling documentary ever made, an enduring classic about a Classic, and so on. But it's still surprising to see those venues sold out. And it seems that people want to watch the film and then buy the book to read more about the film which is also welcome, given that it is on that proposition that I've staked a year of my life in writing and getting nerdy about sections of cobbles, long-lens takes and state funding in Danish cinema in the early 1970s.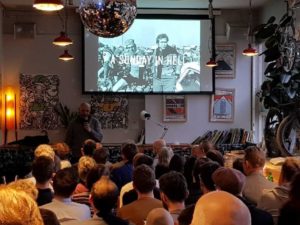 So there was much to like: I got to the new look Herne Hill, which I have wanted to see since it reopened, partly because of its evocative history, also with my track league organiser hat on, as well as my track rider casquette. I visited Prendas Ciclismo in Poole, who were one of the first advertisers when Jeremy Whittle and I founded procycling in 1999, and who were supplying me with arm-warmers and stuff when I rode the FBD Ras back in 1997.
Most appositely of all, I went back to the Watershed arts centre in Bristol, where the idea of "writing a book about a film about a race" was born when I went to a screening of Sunday there in 2010, did compere duties for a Q&A with Jorgen Leth, and realised there might be a bit more to this film than initially thought.
Most commonly asked question: why did you write a book about a film?
Blind sider: what is your favourite bike?
The one I couldn't answer; do you know anyone who doesn't like a Sunday in Hell?
With thanks to Look Mum No Hands in Old St, Prendas Ciclismo and Rockets and Rascals in Poole, Watershed in Bristol, and the Friends of Herne Hill for their help in setting the spring tour up.  Next up: Ilkley on April 29, Ross on Wye on May 16 via Rossiter books. Ilkley is sold out I'm afraid, three weeks ahead of showing.
April 29, Ilkley Cinema, Ilkley, 730pm
May 16: Phoenix Theatre, Ross on Wye, 7pm (kindly supported by Rossiter Books of Ross on Wye)
Other dates pending… Any suggestions welcome at this address… Look forward to seeing you there.