Off to the Giro… The other Giro…
I had a fun Bank Holiday weekend at the Giro, but not the Giro the whole cycling world was talking about. I wasn't in Rome watching Chris Froome's triumph, instead I was not far from home in Shropshire driving a neutral service vehicle on the Giro del Mon https://www.girodelmon.co.uk, a three-day, five-stage race set up this year by Shrewsbury's Chris Pook, of local club Rhino Velo Racing. As a result over the three days I got to see more bike racing up close than in nearly 30 years covering the Tour de France.
First up, can I just say that anyone who thinks the job that those yellow Mavic cars do on the Tour de France and other races is simple, then think again. Me and my three helpers, parents of other riders in the Halesowen Cycling Club Academy, were stretched to the limit at times. What we had in common with Mavic is that it's a stressful deal, trying to change wheels rapidly when a rider is in a panic. For us, however, in many cases the riders hadn't to do a wheel change in anger before, plus in a race on open British roads you are always conscious that another vehicle could plough into the back of you as they probably won't be expecting a car to be stopped dead in the road just around the next corner.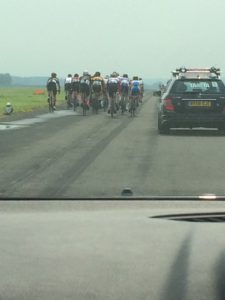 But we got through without mishap, and although very few of the riders we helped managed to get back to the race because there was no "convoy" for them to work – and there was a race rule forbidding "drafting", because it would keep us from where we had to be, at the back of the peloton – to a man they were all understanding when we gave them their flatted wheels back, no matter how much time they had lost. It was nice to feel you were at an event where there were no inflated egos, in spite of the amount of time, effort, cash and emotion everyone puts in. (For those wondering, the pictures above and below were taken on a stage on an airfield, where, yes, we gave a couple of riders a bit of a help…)
It was also pretty salutary to see the hard work that went in to keep the show on the road. The joy of a stage race for riders and media is that anything can happen. The nightmare for the organising team is that anything can happen. In this case it was a finish that had to be changed, a wealth of winter potholes (irony of ironies, the race made friends among locals who realised that if the council wouldn't fill them, the race organisers would), and thunderstorms which caused landslides, felled trees, piled up mud in places, and ran gravel six inches across the road. All that had to be managed on the hoof, before the show even took to the road.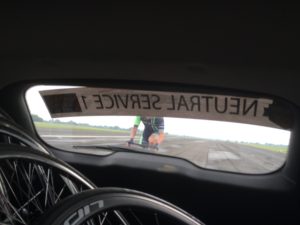 Chris's ambition had been to run the final stage over four laps of the massive Stiperstones climb, and realising that meant the riders got to experience a truly epic stage, run off at an astonishing 25.5mph. Not all of them made it through but it was memorable and spectacular. It could also provide the foundation for this event to go forward in some interesting ways, which hopefully it will. As an amateur bike racer, I can testify that the events you remember are usually stage races, and they are the ones where you are truly stretched. That hellish day out provides a wealth of tales and memories. And some great pics and videos here: https://www.facebook.com/girodelmon/posts
Why did I get involved? Increasingly in recent years, my philosophy has been that it is better to try and do things rather than whinge on the sidelines. There was a massive shortage of races in our local area a couple of years ago, making it hard for us to help young riders to develop, so we formed a work group to try to support organisers. Chris was part of that group, so you help out. Simples. Plus, it gave me a chance to keep an eye on some of the riders in the club team that I look after, one of whom, Charlie Walker, ended up in yellow for a day (below).
There is a bigger picture here. Compared to Ireland, where three-day stage races have proliferated in the shadow of the Ras, stage races in England are hard to find at the echelon between two-days and the Tour of Britain, the Tour of Sussex in July being an honourable exception. As a young rider I remember events like the Ras de Cymru – last run in 2016 – and the Launa Windows 3-Day; good strong local events with an established identity that provided a stepping stone between one-day races and the higher level. And these are precisely the events that help riders develop.
It's not simple to run stage races on British roads – and it is expensive – but the advent of accredited marshals may have changed the game, even if the costs for riders are higher, simply because as well as rider safety, events have a far more professional face to show fellow road users and the police. In an ideal world, every BC region should have something like this event, and if what Chris and his team managed over the weekend helps inspire other potential organisers by making them realise what can be done, all to the good.