Seeing A Sunday in Hell on the big screen is an experience every cycling fan should have. In conjunction with publication of my book on Jørgen Leth's film, Sunday in Hell, various people and organisations are organising screenings of the film around the UK, after which you will have a chance to ask me questions about the film and the book, and to buy signed copies of the book. Currently the dates look like this:
April 3: Look Mum No Hands, 49 Old St, London, 630pm
April 5: Rockets and Rascals, 278 Sandbanks Rd, Poole, 7pm (kindly supported by Prendas Ciclismo)
April 7: Watershed, Harbourside, Bristol, 1pm (showing includes the rare Jørgen Leth short Eddy Merckx in the vicinity of a cup of coffee)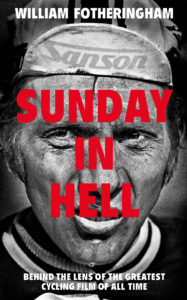 April 7: Herne Hill Velodrome, South London, 7pm
April 29, Ilkley Cinema, Ilkley, 730pm
May 16: Phoenix Theatre, Ross on Wye, 7pm (kindly supported by Rossiter Books of Ross on Wye)
I am very much aware that these dates are mainly in the south and west of the UK so I'd like to add to that Yorkshire date at least. Any suggestions welcome at this address… Look forward to seeing you there.